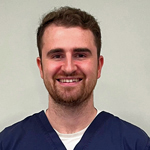 Jack Butler – Chiropractor
H
ello I'm Jack! I'm from Sunderland and I originally got involved in Chiropractic because I was a keen football player when I was younger. I found myself injury prone which led me into the world of healthcare and rehabilitation, so it's safe to say that everything that I do is tried and tested! My experiences as a young sportsperson led me to be fascinated in everything I was doing and how I could prevent it from occurring in the future.
I have a special interest in sports, movement and rehabilitation and my approach to practice is working in co-operation with you so you can become the version of yourself you want to be. Together we produce a tailor-made management plan that will benefit you and I use a number of different techniques such as manipulation, mobilisation and soft tissue work. I enjoy treating people from all different walks of life and it's very rewarding helping you understand everything that is going on and how you can improve whatever situation you find yourself in. I have always loved puzzles and problem solving so I enjoy the more unusual case. I am a member of the British Chiropractic Association and graduated from the Welsh Institute of Chiropractic.
In my spare time I am an avid gym goer with a focus on strength training and enjoy sports such as football, boxing and MMA and this really helps me use all my knowledge of the biomechanical aspect of sports and technique to help to improve you functionally as a person.