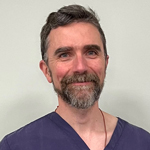 Chris Davies – Chiropractor
H
ello I'm Christopher Davies.
I first required chiropractic treatment after an accident which left me with back and leg pains. I was mid-way through my first science degree at Leeds Metropolitan and was so pleased with the results of my chiropractic care that I decided to attend the Anglo-European College of Chiropractic after finishing my degree at Leeds.
I completed 4 years at the AECC in 2007 where I attained my Masters degree in chiropractic. In 2010 I studied animal chiropractic, again at the AECC. I then went on to treat horses and dogs in the northeast of England.
At Stockton Chiropractic Clinic I use a variety of treatments as part of my chiropractic management plans, including joint manipulation/adjustment, trigger point therapy, sacro-occipital technique and rehabilitation exercises and lifestyle advice. My interests in nutrition, stress, sleep quality and exercise are all a part of looking at the whole person.
In my spare time I like to play tennis and do strength training using only my own body weight.
I look forward to meeting you and working with you!