About Your Visit To Stockton Chiropractic Clinic
A Step-by-Step Guide

Y
ou can call our friendly reception team on 01642 633888 or email us via the contact form.
If you would like to speak in further detail about your specific condition to a chiropractor before making an appointment, we will make sure that happens and you can ask any questions you like.
Assessment Consultations can be conducted online or in-clinic. and once an appointment is booked in we will email you confirmation ands we can send a text reminders the day before your appointment. Current prices for Assessment Consultations and Follow-Up Treatments are available in the Healthcare & Pricing section.
To give you the best care we possibly can we like to learn as much about your health, and what might be affecting it, before your first consultation. So the next step is to complete an Initial Assessment Questionnaire . You can read more about this below…
If you would like to make an appointment for chiropractic care…
Get In Touch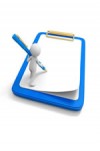 F
ollowing your booking confirmation we will email you a link to complete an "Initial Assessment Questionnaire" from a platform called Care Response.
You can complete it in a few moments in the comfort of your own home, before coming to the clinic, and we will have it all ready for your chiropractor. Don't worry if you do not have email. You can arrive a few minutes before your appointment and complete it in the clinic.
The questionnaire, and short follow up versions, are a very important part of your care. They help us learn as much about you and your health as we can and to measure progress during treatment.
By completing the questionnaire prior to your first assessment consultation we can use your time with the chiropractor more effectively to get you the help you need.
The form collects information about your medical history, along with any relevant family medical history, previous treatments you may have had, information about your work/lifestyle and the levels of pain you have been experiencing and how the pain affects your life.
The Initial Assessment Questionnaire takes 5 to 10 minutes to complete. After completing it you are ready for your Assessment Consultation session, about which you can read more below…


T
he first session is an Assessment Consultation and takes up to an hour. It can be done online or in-clinic and consists of a thorough conversation about your current problem and a comprehensive physical examination.
Examination can include observing your posture and the way you walk, palpation of the spine and/or other joints and muscles, specific orthopaedic tests which help us diagnosis your problem and testing of your nervous system including muscle and reflex tests.
Following the examination, a comprehensive report of findings will be given to you – i.e. we will explain what we think is going on, and the best way forward, whether this is commencing chiropractic treatment, referring you for further imaging such as an x-ray or MRI scan, or referring you to another healthcare professional who can help.
If chiropractic care is appropriate for you, we will explain the prognosis (the likely or potential health outcome) of your complaint, how many treatments we predict you will need and discus costs. Current prices for Follow-Up Treatments are available in the Healthcare & Pricing section.
When you are happy with this information and decide to proceed, treatment can begin. For straightforward complaints treatment can often begin at this first consultation session.
During the Assessment Consultation you will be asked for your consent to an examination and we will also ask for your consent to commence the treatment plan if you are happy with what we propose.
After your Assessment Consultation, with your consent, we will write to your GP with our diagnosis to make sure they are kept up to speed.
Most treatment takes place in Follow Up Treatment sessions about which you can read more below…

A
t the Assessment Consultation we will let you know how many treatments we think you will need and what the cost is likely to be. Subsequent Follow-Up Treatments last 20-30 minutes.
The amount of days in between treatments is tailored to the individual and what will work best. To start with, treatment will focus on reducing pain levels and improving your mobility.
Treatment may involve a number of chiropractic techniques such as manipulation or mobilisation of joints, soft tissue massage, dry needling (western medical acupuncture) alongside advice and exercises you can do to improve your core stability and the way in which you move.
The type of treatment used will be discussed with you first to make sure you are comfortable with it.
You can find out a bit more about chiropractic in general and the treatments involved in the section 'About Chiropractic'.